GARRETT HAND HELD SECURITY DETECTION
Scroll Down for Walk Through Models
Garrett Super Scanner Metal Detector
Super Scanner
A long-time favorite of security and law enforcement professionals around the world, Super Scanner is virtually eliminating the need for pat downs during weapons screenings, saving patrons from embarrassment and helping to protect security/law enforcement officers from needles and other harmful paraphernalia.
Garrett Tactical Hand Held Metal Detector - Newest Yet, Several Thousand Shipped to Iraq for our Military Police there.

Garrett THD Tactical Hand-Held Detector with Holster.
Maintain Tactical Advantage with the Innovative New THD
Garrett Enforcer G-2

A miniature version of the Garrett Super Scanner. The Enforcer G-2 is small enough to carry in your hand or pocket, yet powerful and sensitive enough to detect the smallest concealed weapon. Built to operate in rugged conditions. Optional belt holster.
Garrett SuperWand

The sleek, easy-grip design of the SuperWand helps make everyone an effective security screener. Exclusive 360º Plus provides uniform sensitivity along the scan area including tip pinpointing. Choice of audible or silent vibrate/LED alarm, for less conspicuous detecting. Optional belt holder available.
GARRETT CSI 250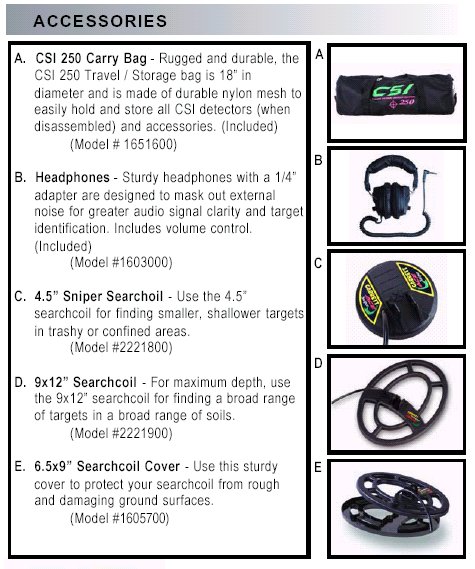 CSI 250 Ground Search Metal Detector Garrett's ALL NEW CSI 250 is simple to operate, yet features unparalleled performance for budget-minded departments and agencies. It includes superior technology such as a graphic target ID, sensitivity adjustment and notch discrimination to accurately identify the type of target detected. The CSI 250 also includes the 6.5 x 9" PROformance searchcoil, which covers more ground per sweep and is submersible. This advanced metal detector also features a Target ID Legend designed to identify targets commonly sought in crime scene investigations.
Features:
Graphic Target ID Cursor (12 Segments)
Discrimination: Accept / Reject Notch
Electronic Pinpoint
Sensitivity, Depth Adjustment (8 Settings)
Battery Condition Indicator
Depth Indicator
Headphone Jack
Interchangeable Searchcoils
Large LCD Display
Microprocessor Controlled
Push Button Controls
Clear Speaker Tone
Tone ID, 3 levels
Touch-n-Go Operation
Specifications:
Operating Temperatures : O°F (-17°C) to 130°F (54°C)
Storage Temperatures: -20°F (-28°C) to 150°F (65°C)
Length: 42" to 51" (1.06m - 1.29m)
Weight: 2.7lbs (1.2kg)
Operating Frequency: 6.5 kHz
Searchcoil: The ACE 250 metal detector includes the 6.5x9" PROformance submersible searchcoil.
Arm Cuff: Adjustable, with strap
Touchpad Controls: Power, Pinpoint, Elim (Eliminate), Discrim (Discriminate), Sensitivity, Mode
Battery: Four (4) AA batteries provide up to 25 hours of operation. Optional NiMH rechargeable battery provides between 6 and 8 hours on each 12-hour recharge.
Warranty: Limited, 24 months parts and labor
Garrett Investigator CX Plus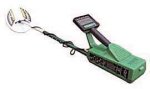 The microprocessor-driven Investigator CX Plus is designed to achieve extraordinary depth and efficiency under the toughest operating and ground conditions. This successor to the famed Master Hunter CX detector builds upon the technology of its predecessor, incorporating a more rugged LCD that reveals a detected target's identity and conductivity while in the All-metal or Discrimination search mode.
To hunt for deeply buried targets, switch to the All-Metal mode and Garrett's exclusive Fast Track will ground balance the detector's circuitry. Attach Garrett's famed Bloodhound Depth Multiplier and search at depths two to four times deeper than conventional searchcoils.
Garrett Investigator G-500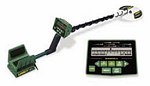 The Investigator G-500 is a microprocessor-driven ground search detector that pinpoints targets automatically. Just press POWER, search for hidden weapons and evidence, and the Investigator 500's patented Graphic Target Analyzer will reveal the item detected.
The Investigator G-500 is extremely easy to use. The easy-to-read LCD continuously displays all control and discrimination settings, while the Target ID cursor helps identify specific targets even in very trashy areas. The G-500 offers an All-Metal search mode or a 24-notch Discrimination mode that can be tailored to exclude specific targets from detection.
Garrett Sea Hunter Mark II Specs & Order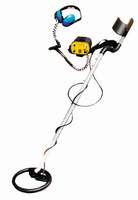 A longtime favorite of renowned professional treasure hunters Mel Fisher and Bob Marx, it ignores salt water and most minerals.
Find more rings and less trash with Garrett's new Sea Hunter Mark II. The Mark II boasts a unique, groundbreaking technology in the form of a patented Discrete Trash Elimination mode that discriminates unlike any conventional pulse induction (PI) detector.
WALK -THRU DETECTORS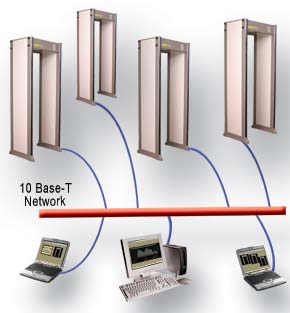 Model - 2233000
MSRP - $599.95
Garrett Metal Detectors recently introduced the Control, Monitor, Analyze Interface Module (CMA), which is a multi-functional product designed specifically for Garrett walk-through metal detectors.
The CMA provides remote network access to data collection, alarm statistics and real-time detector events for monitoring and / or analyzing. When connected to a 10-Base T network the walk-through unit can be remotely monitored and controlled from any location around the world.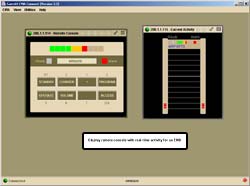 Control
The CMA enables an end user to remotely change any setting on the walk-through metal detector as if physically standing in front of the unit. The CMA also allows end-users to successfully integrate Garrett walk-through metal detectors into an existing access control security system that includes video surveillance and card-access portals.
Supervisory access codes are required to change walk-through settings.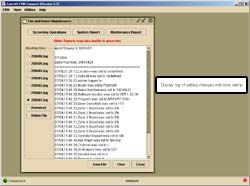 Monitor
The CMA enables the end-user to monitor an unlimited number of walk-through units (depending on network structure) in real-time. End-users can monitor such information as patron throughput, alarm count and bar graph activity. The CMA also permits a certified technician to troubleshoot the unit from a remote location if needed. Multiple walk-through units can be monitored simultaneously using one CMA per unit.

Analyze
The CMA presents statistical graphs and data that help determine patron and alarm count to better regulate staffing needs at security checkpoints. Data can be analyzed on daily, weekly, monthly or annually basis.
The CMA is engineered with a non-volatile memory component that retains all data collected for up to 12 months.
Garrett Magna Scanner PD6500i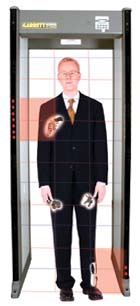 Enhanced Pinpoint Detection Provides the Highest Performance Standard for Safety Today
Garrett Magnascanner 3500
MS 3500
A heavyweight metal detector designed to withstand the demands of rugged environments like prisons. Built with sturdy 3/32" aluminum armor sheets and assembled with tamper-proof screws to resist the effects of abuse and weather.
Garrett Magnascanner 5500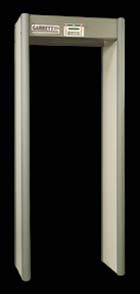 MT 5500
When maximum throughput is top priority, security professionals can depend on the Magnascanner MT 5500 walkthrough metal detector.
Garrett Magnascanner features:
* A dual access non-resettable code to safeguards calibration settings and an audible alarm to reveal any unauthorized access attempts.
* A built-in overhead electronics compartment to eliminate the inconveniences of a cable-connected console.
* Multi-phase frequencies and variable tone settings to facilitate multi-unit operation.
* Modular electronics and unit design for easy on-site assembly and maintenance.
Garrett Magnascanner CS5000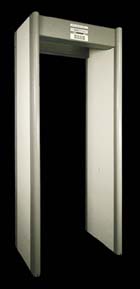 CS 5000
The Garrett Magnascanner CS 5000 is a high-quality microprocessor-based walk-through metal detector that provides superior metal discrimination and detection. It features a DSP (Digital Signal Processor) that automatically suppresses or eliminates electrical interference associated with x-ray devices, video monitors and communications equipment, helping to reduce the likelihood of nuisance alarms and ultimately improving traffic throughput. The Magnascanner CS 5000 offers a diverse range of programs to meet your security needs. The detector is highly portable and can be operated by remote console or a battery pack as needed.