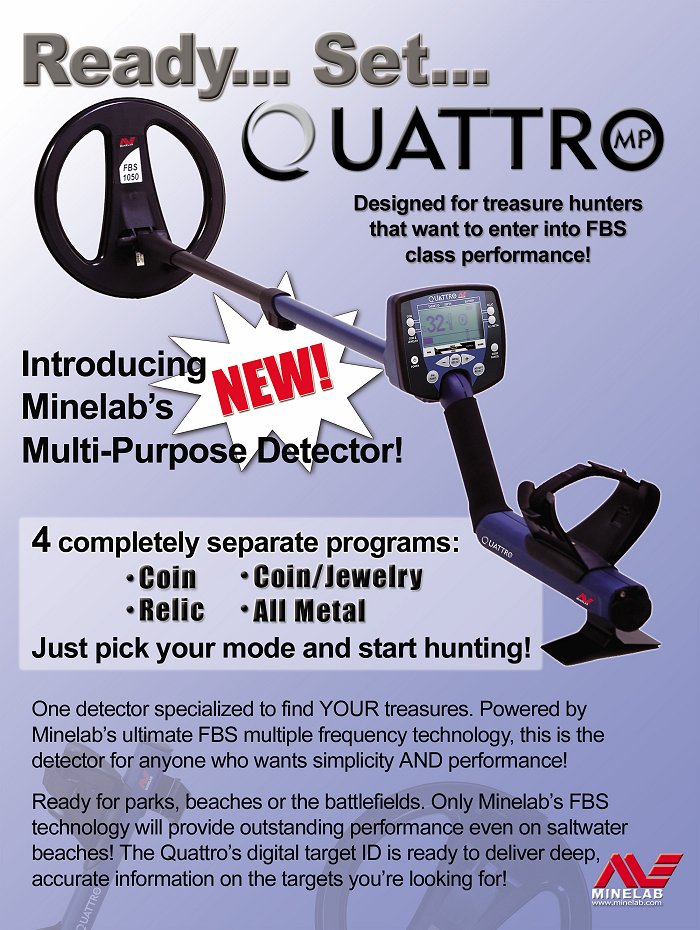 Designed for Treasure Hunters that want to enter into FBS class performance!
One detector specialized to find YOUR treasures. Powered by Minelab's ultimate FBS multiple frequency technology, this is the detector for anyone who wants simplicity AND performance!
Ready for parks, beaches or the battlefields. Only Minelab's FBS technology will provide outstanding performance even on saltwater beaches! The Quattro's digital target ID is ready to deliver deep, accurate information on the targets you're looking for!

Multi-frequency-Full Band Spectrum (FBS) Technology
When developing the Quattro MP, Minelab's scientists looked at
developing a truly easy to use yet extremely powerful multi-purpose metal detector. Discussions with seasoned treasure hunters from around the world identified a number of possible enhancements for operators. Features of the Quattro MP detector include:
Remarkable detection depth
* Accurate identification of targets to greater depth
* Enhanced detection of desired targets amidst iron "trash"
* Enhanced detection capabilities when searching salt-water beaches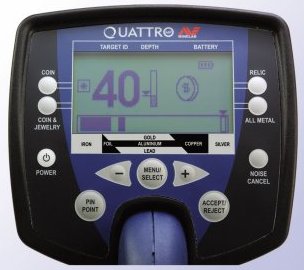 Most detectors on the market operate on a single (or dual) frequency, ranging from 1 to 70 kilohertz (kHz). Although this technology has served the industry well for years, Minelab's scientists found that a frequency that worked well in one area would often offer only marginal performance when used in another location. Ground mineralization, trash content, and target size all had an effect on how effective a detector transmitting a single frequency would operate.
Full Band Spectrum technology combines Minelab's existing multiple frequency BBS technology with a
powerful new microprocessor to give:
Greater Detecting Depth
* Consistent sensitivity over a wide range of targets
* Less interference from electromagnetic sources
* More accurate identification of target characteristics
The Full Band Spectrum (FBS) circuit automatically transmits multiple frequencies simultaneously. This increased frequency range means that the signal received from the detector coil is analyzed from a wide range of responses. This information is relayed to the operator via the speaker or headphones and the control panel's liquid crystal display as an audio or visual target response.
Put simply, Minelab's unique FBS technology means deep, sensitive, accurate detecting.
Ground Compensation
The Quattro MP uses a sophisticated approach to the elimination of signals caused by ground mineralisation. Unlike other forms of ground balance that require
constant readjustment, FBS technology uses advanced digital filtering to eliminate the influence of ground signals.
Operating Frequencies
A metal detector's electromagnetic operating frequencies are measured in kilohertz (kHz). Low signal frequencies (e.g. 1.5 kHz) penetrate deepest, but sensitivity to smaller targets is low. On the other hand, higher frequencies have a more shallow depth of penetration but high sensitivity to small targets. The Quattro MP's multiple-frequency operation provides the advantage of both.