Garrett GTP 1350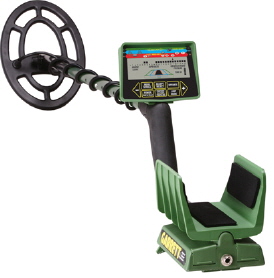 Garrett GTP 1350
GTP 1350 Features
Detection depth so strong there's virtually no place a target can hide.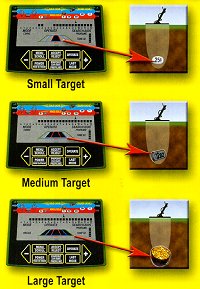 Profiling(Target Size)-No other manufacturer gives you target size information like Garrett. And when it comes to digging targets, size can mean the difference between digging treasure and digging trash - or not digging it at all. Thats why Garrett designed the GTP 1350 with all new profiling technology. Profiling is the first step towards the sizing information like that provided on the elite GTI series. After pinpointing a target, switch the unit to the Profiling Mode to allow detection of the target size (small, Medium, Large). This critical size info will be especially helpful when coin hunting and will help you distinguish between coins and larger items.
DSP(Digital Signal Processor) - DSP is the most important feature you can have on your detector. It is what enables the GTP 1350 And GTI series to perform complex hunting features, such as ScanTrak, Auto Ground Balance, Imaging and now Profiling. Having DSP is like having a super-charged V8 engine in your truck - while the industry standard microprocessor is the equivalent of a 4 - cylinder, carbureted engine. With DSP you can search deeper, faster and more efficiently with greater amounts of target information than any other brand on the maket.
Target ID - Garretts DSP-based Target ID system offers the most reliable and comprehensive identification of detected targets, based on their conductivity and size.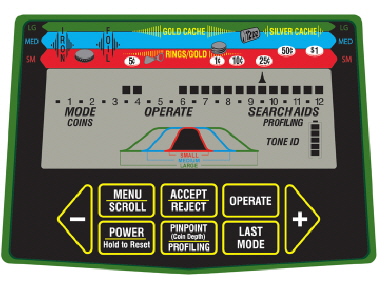 Automatic Ground Balance - DSP automatically and continuously adjusts the detector's ground balance setting, thereby minimizing the negative effects of ground mineralization, in order to provide optimum performance over a wide range of soils even while hunting in the Motion/Discrimination Mode.
GTA Accept / Reject Discrimination - DSP based Graphic Target Analyzing Discrimination capabilities allow you to reject or accept a target, based on its conductivity, with greater efficiency than any other detector on the market.
Pinpointing (Coin Depth Measurement) -DSP based pinpoint Mode, coupled with Auto Ground Balance feature, helps to ensure pinpointing signals are free of confusing ground interference signals, thereby allowing you to determine the precise location of a target with greater accuracy than any other detector.
FDA (Frequency Domain Analysis) - This DSP based technology produces a near infinite number of filters to remove virtually all of the ground mineralization and other "external" noises that standard 2 and 3 filter detectors miss. The effects of DSP-driven filter is like looking at a target through clear,filtered water whereas using a microprocessor based filter is the equivalent as trying to see the same target through muddy water.
PowerMaster - This enables the detector to search deeper than traditional microprocessor driven detectors.
ScanTrak - This feature instantly and accurately adjusts to your operating speed to aachieve optimum performance on a swing-by-swing basis.
Proformance 7 X10 Ellipticalcoil - The GTP 1350 comes standard with the all new, highly rugged 7 X 10 Elliptical searchcoil that lets you search deeper, with smoother operation, as well as provide you with the broad scan area of a large coil with the lightweight maneuverability of a smaller coil.
Other Features
Audio Threshold, Adjustible
Audio Tone Id
Coin Alert Belltone Audio
Frequency Adjustable
Auto Ground Tracking
Hip Mount Battery Pack
Last Mode Switching
LCD Backlit shows Target Id and Settings
Profiling(Target Size)
Salt Elimination Mode
Sensitivity/Depth Adjustment
Speaker and Surface Mount PC Board Technology
TouchPad Controls with One - Touch Operation
Volume Controls
Specifications
Length: 40" to 51" - Adjustible
Weight: 4.0 lbs.
Single Frequency Operation - 7.2 kHz
8AA battery operation (batteries included)
Two Year /warranty
Search Modes
Motion: Coins, Jewelry, Relic's, Zero, and Cutom Discrimination modes with Visual Target ID.
Settings
Sensitivity....Threshold....Detection Frequency....Volume....Tone....Full Range Multi-Notch Discrimination.
The GTP 1350 is the highest performing, deepest seeking and most advanced metal detector of its kind. If you're serious about treasure hunting, you need this GTP 1350.
Be one of the first to own this detector!